Stan Griffiths W7NI, cofounder of VintageTek and prolific member of many facets of the Portland-area Ham community passed away on January 29, 2020 at 82 years old.
Dick Ballard W7AND, long time TERAC member and TERAC secretary, became a silent key on March 26, 2019. He was an active contributor to TERAC and will be greatly missed.
Pat Griffiths KA7UFG passed away due to complications after a surgical procedure on March 13, 2018. She was a life member of OTVARC and wife of TERAC member Stan Griffiths W7NI.
Bob Jenkins W7BKN died early Friday morning April 13, 2018 following several months battling esophageal cancer. He was 77 years old and a long time TERAC member.
Glenn Pelikan K7GWP passed away early the morning of June 12, 2016 in his sleep. He had been suffering from a number of health problems during the last few years. Funeral is tentatively planned for Monday 6/20/2016.
Glenn was a long time member of TERAC and, in his career at Tektronix, managed the development of many special versions of Tektronix products. He capitalized on that role to form the medical monitoring products engineering group at Tek, which later became part of SpaceLabs Medical (now Spacelabs Healthcare).
Glenn's funeral and reception will be held Saturday 18 June 16 at 10:30AM, St Rose Catholic church, 54th Ave and Alameda (one block north of 54th and Sandy Blvd), Portland, Oregon.
Gordon Moyle W7NZL has died following the long cancer saga of the last few years. His on-line obituary is at "http://gordonmoyle.com"
Glen Moyle asked us to inform you that a Celebration of Life will be held Tuesday, December 29 from 3-6 p.m. at the Octagonal Barn at the Cornelius Pass Road House, 4045 NW Cornelius Pass Road, Hillsboro 97124.  The family plans a fun time for all.  What a wonderful way to honor a man who loved life and stayed positive until the end.
Gordon Moyle was born and educated in Auckland, New Zealand. He received a Bachelor of Engineering degree (Electrical) and the first Master of  Engineering (Electrical) in 1968 from the University of Auckland.  He worked for NASA in Australia and taught at the University of News South Wales.  In 1977 he moved to Beaverton, Oregon and went to work for Tektronix.  Later he worked for several companies including ATEQ, MTI, Neurocom and Welch Allyn.  He also taught part time at Oregon Institute of Technology for several years.  Gordon passed the tests for General and Extra class licenses in 2012 to become W7NZL.
Richard R. Pooley W7HUY passed away on October 26, 2015 after complications from a severe fall three weeks prior to his death. He was licensed in 1939 and was active on the air as W7HUY until near the end when too many household moves took him off the air.  Dick was a DXer who had worked every workable country in the world.  Dick served as a Navy radio technician from 1942 until 1945 at the four US bases on the Island of Espiritu Santo in the new Hebrides Archipelago that supported the assault on Guadalcanal.  His 1946 degree in Electrical Engineering was from Oregon State graduating in the same class as Deane Kidd.  He built radio station KBKW in Aberdeen Washington, was Chief Engineer at  KPOJ, then joined Tektronix in 1955 as Test Department head before becoming Facilities Electrical Engineering Manager for the rest of his career.  Dick built the EMI cage around the 500-series test department in Bldg 47 to attenuate KATU.  He retired from Tek on the 1986 50/20 golden parachute. He will be remembered in mountaineering circles as a long time member of the Hood River Crag Rats.  Dick visited the Vintage Tek Museum early this year followed by the Friday night Ex-Tek Pizza gathering in Beaverton following where he was able reconnect with several of his Tek and ham friends. Dick is interviewed in his ham shack as one of the founders of Mountain Rescue Association (MRA) in the 2009 documentary "Mountains Don't Care, But We Do!"
John Payne, AE7CJ, recorded the following Silent Key ceremony for Dick on Tuesday, Nov 3, 2015 on 3.940MHz.
Long-time TERAC friends Deane Kidd W7TYR and Chuck Forsberg WA7KGX have passed away; Deane on the morning of September 17th and Chuck the morning of September 24th 2015.
Deane's life story is at his on-line memorial at http://www.forevermissed.com/deane-elton-kidd#lifestory
A WikiPedia article about Chuck is at https://en.wikipedia.org/wiki/Chuck_Forsberg
Chuck's personal site is at http://www.omen.com/
Long time TERAC member Bob Rullman W1SNR has passed away July 11 2014. A detailed article about Bob is at http://www.anewtradition.com/obituaries/obituary/9725_Robert_George_Rullman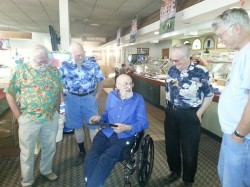 Phil Crosby, Gary Virgin, John Horn, Blaine Smith & Chuck Barrows. Photo by Victor Kong
AC7WS, John Horn's health had been deteriorating recently and when it was announced that he would be stopping by the Friday night pizza gathering  July 26 before moving north to live with one of his sons we knew it might be our last chance to see him.  John became a silent key on July 30, 2013. He was a big man – a gentle giant, father, husband, air-force veteran, engineer, pilot, sailor, biker, mechanic, dog lover, ham radio operator and more.  John often mentioned that he was sorry that more people at Tektronix knew him for walking over an illegally parked Karmann Ghia than for his design work.  He was particularly proud of the 'W' plug-in which was the state of the art for precision measurements in the late 1960s.  At the pizza gathering we gave him a picture of his car walking escapade, cleverly created by Irene Crosby, and a picture of a "W" plug-in.  Good DX John, may the QRN and QRM be low, best 73.  Chuck, K7BVT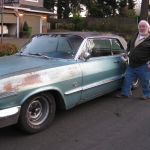 Long time TERAC member and director Ken Rosezweig, WA7BGF passed away on November 22, 2011. Here is Ken's memorial and his obituary We all miss our easygoing and happy friend.